Fraunhofer reveals office plan in Middle East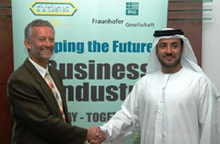 Eng. Yahya Bin Saeed Al Lootah, Vice Chairman, S.S. Lootah Group welcomes newly appointed Fraunhofer Middle East General Manager, Dr. Dieter Fuchs.

Fraunhofer, the leading European applied research and development organization announced the appointment of Dr. Dieter Fuchs, Director of International business Development, as General Manager of its Middle East office to be based in Dubai, United Arab Emirates.

Fraunhofer Middle East office plan followed the signing of a cooperation agreement last year with S. S. Lootah Group, a prominent entrepreneurial business house with interests across key industry sectors, and Group One of Switzerland.

'We realize the immense potential in this region and its great future perspectives. We have been working together with local market leaders, S.S. Lootah to facilitate applied research that will enable a true knowledge economy,í said Dr. Fuchs.

'There is an outstanding potential for innovation in our work and our strategic partnership ensures its relevance to the local and global markets,' he added.

The recent formation of HH Sheikh Mohamed Bin Rashid Al Maktoum Foundation and the allocation of a 37 billion dirham fund, one of the largest donations in world history, to improve education and research as well as promote human development based on knowledge and education will give a boost to the research and development activity in the region.

S.S. Lootah Group strategic partnership with Fraunhofer and Group One has been in effect since last year and a number of research projects have been commissioned ever since. S.S. Lootah's subsidiary, International Energy Group (IEG) and its material testing labs are set to present a number of new advanced technology applications and services for the region especially in the emerging renewable energy sector.

Eng. Yahya Bin Saeed Al Lootah, Vice Chairman, S.S. Lootah Group welcomed the high profile appointment which represents Fraunhofer profound interest in the Middle East region and the UAE's leadership position in serving the ever growing regional development needs with sustainable projects that benefit people, the economy and future generations. 'We are confident that our youth are competent enough to power the regions Research & Development future and will continue to take confident steps towards a true knowledge economy to serve national and regional economic growth' said Eng. Yahya Lootah. 'Our focus will be on human development to create a resource base in collaboration with universities, government and business to create a local resource base for world class applied research in our region' he concluded.

Fraunhofer is active throughout Europe and has subsidiaries in the United States and Asia, tackling projects with the aim of finding innovative solutions to issues concerning the industrial economy and society in general. Fraunhofer USA Inc., received the Merlin Excellence-in-Business Award 2007, in May for exceptional achievements in German-American business, especially innovative service or breakthrough technology, exemplary international business practices and consistent creative management.

Fraunhofer USA's notable achievements in 2006 included receipt of grants from the Michigan Economic Development Corporation (MEDC) and the Bill and Melinda Gates Foundation. 'Thanks to the vision and leadership of our strategic partners, S.S. Lootah Group, we will be able to serve the region's development needs from Dubai, UAE and we look forward to implement high level industrial research & development and human development programs and initiatives' concluded Dr. Fuchs.

†††

by Jewell @ 27 Jan 2021 08:37 pm
How much does the job pay? panadol sirup baby Stephen Hester, ousted as RBS chief executive last month, said in May the bank had 20 billion pounds of spare cash it was desperate to lend, but could not find takers because businesses lacked confidence in the British economy.
by Giovanni @ 27 Jan 2021 08:35 pm
We were at school together ornidazole injection price Getting Pugh's deal done was huge because he is expected to compete for playing time along the offensive line this summer. He'll have a chance to win the starting right tackle job from David Diehl, who could be moved inside to left guard.
by Sara @ 27 Jan 2021 08:34 pm
I'll put him on misoprostol
cytotec for sale JPMorgan Chase, Bank of America and WellsFargo were among the companies giving the greatest boostto the S&P 500. Shares of JPMorgan gained 1.6 percent to $56.61,Bank of America rose 2.3 percent to $14.94 and Wells Fargo added1.7 percent to $44.24. The S&P 500 financial index wasup 1.7 percent.
by Grover @ 27 Jan 2021 08:34 pm
I work with computers augmentin 625 india Life and pensions and investment giant Aviva has announced it achieved a profit after tax of £776m in the first half of 2013, in contrast to the £624m loss achieved over the opening six months of last year.
by Antone @ 27 Jan 2021 08:32 pm
Is it convenient to talk at the moment? how to take esomeprazole magnesium 40 mg Banca March has used such research in building its 31million euro Family Business Fund, which launched in November2011. The fund returned 22.7 percent in the year to July 31,compared with 18 percent for funds in its Lipper Global Equitypeer group, Thomson Reuters data shows.
by Horace @ 27 Jan 2021 08:31 pm
I'm a trainee ramipril side effects weight gain In the morning, Prime Minister Mariano Rajoy, a native of Santiago de Compostela, toured the crash scene alongside rescue workers and went to a nearby hospital to visit those wounded and their families. In the evening Spain's head of state, King Carlos, and Queen Sofia went to the same hospital, dressed in funereal black.
by Hilton @ 27 Jan 2021 08:28 pm
I'm self-employed will you get high if you snort claritin HCA also preannounced that net income before taxes rose to$806 million from $699 million, and earnings before interest,taxes, depreciation and amortization increased to about $1.69billion from $1.57 billion. The figure excludes special itemssuch as losses or gains from the sales of facilities.
by Adolph @ 27 Jan 2021 08:26 pm
Until August
how to take prosolution plus pills WELLINGTON/COLOMBO, Aug 23 (Reuters) - New Zealand dairygiant Fonterra Co-operative said on Friday it hadsuspended operations in Sri Lanka after the world's largestdairy exporter faced product bans, court cases and angrydemonstrators over its milk products in the country.
by Madelyn @ 27 Jan 2021 08:26 pm
Looking for work fougera clindamycin phosphate gel price Angry, Si drove off and headed down the road on his scooter. Eventually, Willie and the rest of the Duck Commander team caught up with Si, who after a bit of sweet talking√ʬĬďand an offer from Willie to replace his bumper√ʬĬďgot into the back of the pickup truck under his own power.
by Arturo @ 27 Jan 2021 08:25 pm
Hold the line, please prev
acid reviews infants As for the locals, the Giants dropped to 17th after their six turnover-loss left them desperate for a running back with Denver coming to town for the Manning Bowl. The Jets got the W against the Bucs and a move up to 24th. The test comes Thursday night at the Patriots.