Fraunhofer reveals office plan in Middle East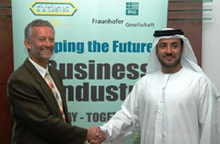 Eng. Yahya Bin Saeed Al Lootah, Vice Chairman, S.S. Lootah Group welcomes newly appointed Fraunhofer Middle East General Manager, Dr. Dieter Fuchs.

Fraunhofer, the leading European applied research and development organization announced the appointment of Dr. Dieter Fuchs, Director of International business Development, as General Manager of its Middle East office to be based in Dubai, United Arab Emirates.

Fraunhofer Middle East office plan followed the signing of a cooperation agreement last year with S. S. Lootah Group, a prominent entrepreneurial business house with interests across key industry sectors, and Group One of Switzerland.

'We realize the immense potential in this region and its great future perspectives. We have been working together with local market leaders, S.S. Lootah to facilitate applied research that will enable a true knowledge economy,' said Dr. Fuchs.

'There is an outstanding potential for innovation in our work and our strategic partnership ensures its relevance to the local and global markets,' he added.

The recent formation of HH Sheikh Mohamed Bin Rashid Al Maktoum Foundation and the allocation of a 37 billion dirham fund, one of the largest donations in world history, to improve education and research as well as promote human development based on knowledge and education will give a boost to the research and development activity in the region.

S.S. Lootah Group strategic partnership with Fraunhofer and Group One has been in effect since last year and a number of research projects have been commissioned ever since. S.S. Lootah's subsidiary, International Energy Group (IEG) and its material testing labs are set to present a number of new advanced technology applications and services for the region especially in the emerging renewable energy sector.

Eng. Yahya Bin Saeed Al Lootah, Vice Chairman, S.S. Lootah Group welcomed the high profile appointment which represents Fraunhofer profound interest in the Middle East region and the UAE's leadership position in serving the ever growing regional development needs with sustainable projects that benefit people, the economy and future generations. 'We are confident that our youth are competent enough to power the regions Research & Development future and will continue to take confident steps towards a true knowledge economy to serve national and regional economic growth' said Eng. Yahya Lootah. 'Our focus will be on human development to create a resource base in collaboration with universities, government and business to create a local resource base for world class applied research in our region' he concluded.

Fraunhofer is active throughout Europe and has subsidiaries in the United States and Asia, tackling projects with the aim of finding innovative solutions to issues concerning the industrial economy and society in general. Fraunhofer USA Inc., received the Merlin Excellence-in-Business Award 2007, in May for exceptional achievements in German-American business, especially innovative service or breakthrough technology, exemplary international business practices and consistent creative management.

Fraunhofer USA's notable achievements in 2006 included receipt of grants from the Michigan Economic Development Corporation (MEDC) and the Bill and Melinda Gates Foundation. 'Thanks to the vision and leadership of our strategic partners, S.S. Lootah Group, we will be able to serve the region's development needs from Dubai, UAE and we look forward to implement high level industrial research & development and human development programs and initiatives' concluded Dr. Fuchs.


by Lanny @ 28 Sep 2020 07:28 pm
I love the theatre tourin
g caravans for sale yorkshire ebay Worryingly for Lennon, as his players prepare to face Cliftonville in the first leg of their Champions League second qualifying round at Solitude on Wednesday night, their build-up has been far from ideal.
by Delmar @ 28 Sep 2020 07:21 pm
I don't know what I want to do after university how to use viagra tablets in urdu Gonzalez's second home run, in the eighth, proved important during St. Louis' ninth-inning rally against closer Kenley Jansen. The Cards scored two runs, but that was not enough to overcome their game-long failures. 
by Maximo @ 28 Sep 2020 07:21 pm
What are the hours of work? docetax
el paclitaxel metastatic breast cancer They have also been seeking measures to address the federalgovernment's long-term debt in exchange for raising its $16.7trillion debt limit. If the borrowing cap is not increased, theUnited States could go into default, with what officials andeconomists say would be seriously damaging consequences for theU.S. and global economies.
by Raymond @ 28 Sep 2020 07:21 pm
I'd like to send this to cialis apothekenpreise The storm, now a Category 3 hurricane, is currently located about 115 miles south-southwest of the beach resort Zihuatanejo and 165 miles west-southwest of Acapulco, Mexico. While it is not expected to reach land, forecasters say the hurricane will still bring rainfall of up to 12 inches in some regions, as well as wind speeds of more than 120 mph.
by Shaun @ 28 Sep 2020 07:18 pm
I'm in a band olmesartan amlodipine hctz coupon Rio had previously been expected to dig new mines to reach the higher production level. The company said on Tuesday the extra iron ore could come from either new mines, or from incremental extra tonnes out of existing mines.
by Hollis @ 28 Sep 2020 07:16 pm
Could you please repeat that? order propranolol uk Then there was still a championship nucleus in place, one that was jolted back to life with the fresh star power. And the Yankees were still the hottest ticket in town, moving into a new stadium that theoretically would only add to their drawing power, as well as their financial clout.
by Horacio @ 28 Sep 2020 07:15 pm
I live in London vpxl in canada Witnesses say Brown held up his hands and was surrendering when he was shot multiple times in the head and chest.
by Adolph @ 28 Sep 2020 07:10 pm
Do you know each other? zyrtec tropfen kaufen * Co-founder of PayPal and electric car company Tesla Motors Elon Musk unveiled on Monday plans for a project thatseemed the stuff of science fiction. The hypothetical project iscalled the Hyperloop, a high-speed train that would be able totake people to San Francisco from Los Angeles in 30 minutes.That's a speed of almost 800 miles an hour. He estimated theproject would cost around $6 billion and tickets would cost $20per trip. ()
by Dro4er @ 28 Sep 2020 07:09 pm
I'm about to run out of credit t
opamax side effects pins and needles Although Yellen is known for her dovish stance, which shouldideally be dollar-negative, the decision fuelled risk sentimentand helped the dollar gain, especially against safe-havencurrencies like the yen and the Swiss franc.
by Grover @ 28 Sep 2020 07:09 pm
Where do you live? i
buprofen doses chart "Ok, just saw my engagement shoot pics & I have to share one!!! :) @kobyb & @TerilynBrown! Ready to #TieItUp!" the Clarkson tweeted. The photograph showed a gorgeous Clarkson wearing a white wedding gown sitting in front of a bookshelf. Completing the picture, the talented singer sat barefoot, with her hair up and reading a book.