Fraunhofer reveals office plan in Middle East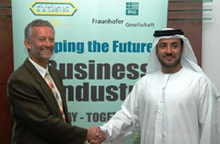 Eng. Yahya Bin Saeed Al Lootah, Vice Chairman, S.S. Lootah Group welcomes newly appointed Fraunhofer Middle East General Manager, Dr. Dieter Fuchs.

Fraunhofer, the leading European applied research and development organization announced the appointment of Dr. Dieter Fuchs, Director of International business Development, as General Manager of its Middle East office to be based in Dubai, United Arab Emirates.

Fraunhofer Middle East office plan followed the signing of a cooperation agreement last year with S. S. Lootah Group, a prominent entrepreneurial business house with interests across key industry sectors, and Group One of Switzerland.

'We realize the immense potential in this region and its great future perspectives. We have been working together with local market leaders, S.S. Lootah to facilitate applied research that will enable a true knowledge economy,' said Dr. Fuchs.

'There is an outstanding potential for innovation in our work and our strategic partnership ensures its relevance to the local and global markets,' he added.

The recent formation of HH Sheikh Mohamed Bin Rashid Al Maktoum Foundation and the allocation of a 37 billion dirham fund, one of the largest donations in world history, to improve education and research as well as promote human development based on knowledge and education will give a boost to the research and development activity in the region.

S.S. Lootah Group strategic partnership with Fraunhofer and Group One has been in effect since last year and a number of research projects have been commissioned ever since. S.S. Lootah's subsidiary, International Energy Group (IEG) and its material testing labs are set to present a number of new advanced technology applications and services for the region especially in the emerging renewable energy sector.

Eng. Yahya Bin Saeed Al Lootah, Vice Chairman, S.S. Lootah Group welcomed the high profile appointment which represents Fraunhofer profound interest in the Middle East region and the UAE's leadership position in serving the ever growing regional development needs with sustainable projects that benefit people, the economy and future generations. 'We are confident that our youth are competent enough to power the regions Research & Development future and will continue to take confident steps towards a true knowledge economy to serve national and regional economic growth' said Eng. Yahya Lootah. 'Our focus will be on human development to create a resource base in collaboration with universities, government and business to create a local resource base for world class applied research in our region' he concluded.

Fraunhofer is active throughout Europe and has subsidiaries in the United States and Asia, tackling projects with the aim of finding innovative solutions to issues concerning the industrial economy and society in general. Fraunhofer USA Inc., received the Merlin Excellence-in-Business Award 2007, in May for exceptional achievements in German-American business, especially innovative service or breakthrough technology, exemplary international business practices and consistent creative management.

Fraunhofer USA's notable achievements in 2006 included receipt of grants from the Michigan Economic Development Corporation (MEDC) and the Bill and Melinda Gates Foundation. 'Thanks to the vision and leadership of our strategic partners, S.S. Lootah Group, we will be able to serve the region's development needs from Dubai, UAE and we look forward to implement high level industrial research & development and human development programs and initiatives' concluded Dr. Fuchs.