ZAS - IEG present the latest in sustainable building, design and technology at Cityscape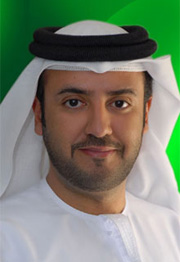 Eng. Yahya Bin Saeed Al Lootah, President and Chief Executive Officer, IEG

ZAS International Architects (ZAS), a leading integrated and sustainable design consultants and the International Energy Group (IEG), the regions first strategic alliance to promote clean and renewable energy, presented the latest in sustainable building, design and technology at Cityscape Dubai 2006, the region's premier property investment and development event being held at the Dubai International Exhibition Centre from 4-6 December.

The ZAS-IEG partnership, forged earlier this year offers a holistic and integrated project development services incorporating the latest in energy technologies with sound sustainable architectural design. Sustainable planning and design of sustainable Infrastructure including waste water treatment, and energy generation systems design and evaluation are key services offered by ZAS worldwide. 'ZAS is considered one of the leading, award winning designers in this field.' said Eng. Yahya Bin Saeed Al Lootah, President and Chief Executive Officer, IEG. 'Our interest in sustainable design will benefit the region greatly especially with passive cooling strategies including solar control, displacement ventilation, drawing supply air through underground ducts, thus pre-cooling the air, He added.

ZAS has a long history with sustainable building designs on three continents in varied climatic conditions including projects in South Africa, China, North America.

'We have successfully incorporated environmental, energy efficient and healthy features in our projects, without adding cost - only increasing sustainability by lower operating costs, creating healthy daylight spaces and a reducing impact on the environment we all share' said DJ Armin, ZAS General Manager in the UAE. 'Design of high performance buildings with ultra-low energy consumption is a reality today thanks to the computer modeling, which allows the simulation of solar shading, Day lighting and thermal loads to reduce artificial lighting and cooling requirements'

It is a common practice today to produce evaluation and model energy efficiency systems to recommend the best combination of insulation, windows and cooling systems for high return on investment. 'the ZAS IEG partnership takes design to the next level by producing feasibility analysis and integration of advanced technologies to reduce peak energy demand or even allow a building to become a net exporter of energy to the power grid' he added.

The new partnership will also allow IEG to use various sustainable building tools effectively in its project developments such as LEED (the US's Leadership in Energy and Environmental Design), BREEAM, (The British Building Research Establishment Assessment Method) GBCtool (The International Green Building Challenge sustainable rating method) for third party verification of sustainability claims.