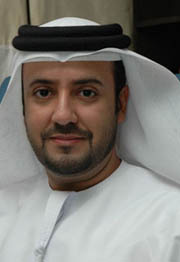 Eng. Yahya Bin Saeed Al Lootah, Vice Chairman, S.S. Lootah Group, President and CEO of IEG.

S.S. Lootah International, the international business arm of S.S. Lootah Group, announced its participation in the inaugural 'UAE Trade Exhibition in Turkey' to be held in Istanbul from 13-15 September 2006.

The exhibition is organized by Dubai Chamber of Commerce & Industry (DCCI), Jebel Ali Free Zone Authority (JAFZA) and Dubai Tourism and Commerce Marketing (DTCM) and designed to build business relationships between the two countries to support the growing bilateral trade.

Eng. Yahya Bin Saeed Al Lootah, Vice Chairman, S.S. Lootah Group stated that the 'UAE Trade Exhibition in Turkey' creates a new channel for the business communities in both countries to forge partnerships. 'Turkey has a diverse and strong economy that has evolved economic policies of privatization, venture capital, hi-tech, entrepreneurship and deregulation at par with the world's top economic powers' said Lootah. 'We look forward to forge new partnerships with Turkish companies that share the same values and vision of S.S. Lootah Group' he added.

S.S. Lootah International has long established relations with Turkish businesses in the energy, construction and telecommunications sectors among others. Currently supporting major natural gas projects in Turkey, Lootah BC Gas, the regional business arm of Terasen International Inc., provide specialized gas infrastructure services to The Palmet-Terasen joint venture.

The government of Turkey has issued licenses to private companies for the distribution of natural gas as part of its privatization program. Privatization of existing licensed distribution companies has also started in parallel with the issuing of new licenses. 'We are proud to be among the first companies to support the building of natural gas distribution infrastructure in Gebze, one of the largest industrial centers in Turkey and Erzerum, a densely populated residential city' said Lootah. 'The economic and environmental benefits of using natural gas to provide the energy needs of more than 60,000 residential and commercial buildings are remarkable and have a direct impact on cost savings, and improving of public health' he added.

S.S. Lootah International has served the national and regional development needs with pioneering sustainable projects that benefit people, the economy and future generations. S.S. Lootah has taken the lead in promoting sustainability across all business and social practices at national, regional and global levels. The latest initiative, International Energy Group (IEG), launched in Dubai last September, aims to promote, develop and manage commercially viable, clean and renewable energy projects in the Middle East region.